Sindh government, NADRA to issue succession certificates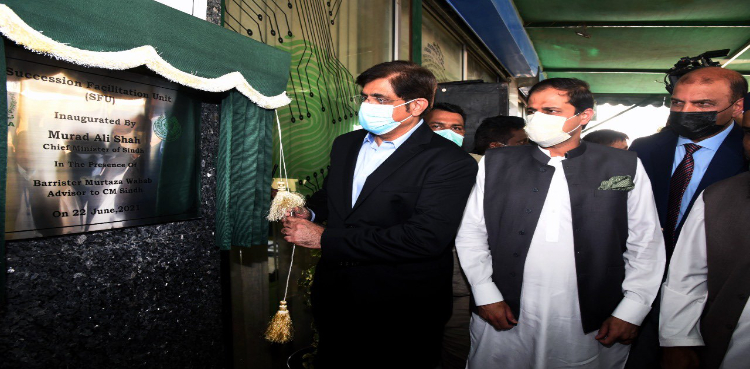 Sindh government and National Database and Registration Authority (NADRA) will jointly ensure the issuance of succession certificates via NADRA Mega Centers in a bid to facilitate the public.
CM Sindh Murad Ali Shah inaugurated Succession Facilitation Unit at NADRA's Mega Center in DHA, Karachi. The facility will ensure the issuance of succession certificates/letter of administration within 15 days.
The succession certificates will be issued via family tree maintained by NADRA and will significantly contribute towards public facilitation who previously had to reach out to courts for succession certificates.
Addressing the ceremony, CM Murad Ali Shah noted that according to Supreme Court's own evaluation, succession-relates matters constituted to around 30% of the judicial workload.
Through this facility, people will be able to obtain succession certificates/letter of administration within 15 days, whereas previously this process was taking around six months.
The development comes as Sindh government had passed its new 'succession law' in April earlier this year.
Succession Certificate is required when a person dies in order to transfer property of deceased person to his/her legal heirs such as insurance claims, money in bank account(s), any stocks, prize bonds, Stock exchange Shares etc.
People can visit NADRA's website for detailed guidelines to apply for succession certificate.
Guideline To Obtain Succession Certificate
Application initiation—Submit their CNIC number along with the deceased's death certificate.
Legal heirs and assets—Submit relevant details of legal heirs and information on the deceased's properties.
Verification and consent— All legal heirs mentioned by the applicant will visit any NADRA Registration Center for biometric verification and give consent to the succession application submitted by the applicant.
Advertisement— NADRA will publish the notice to the public at large in three newspapers, Urdu, English and Sindhi of wide circulation, for ascertaining if there are any objections to the particular application.
Printing and delivery—If no objection is received within 14 days then succession certificate/letter of administration will be printed and issued.