Sultan Ahmad Ali chosen PM of Junagadh, says state part of Pakistan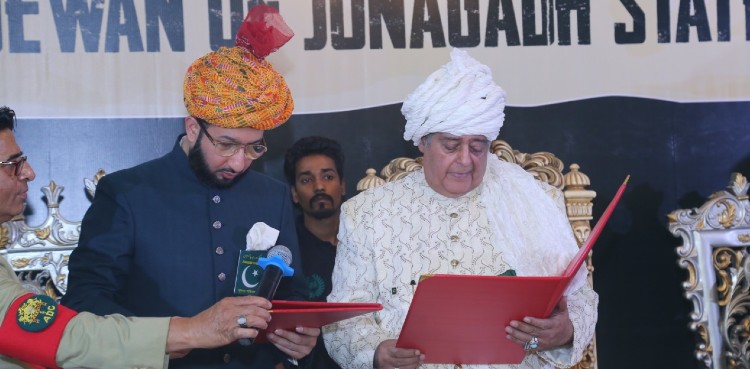 Sahibzada Sultan Ahmad Ali the 10th descendant of renowned Sufi of Islamic-world Hazrat Sultan Bahoo R.A has been chosen the new Prime Minister (Dewan) of the State of Junagadh on Friday.
Speaking on the auspicious occasion, Sultan Ahmad Ali said that him being declared the premier of the state was in no way a movie towards breaking India.
Rather, he said that Junagadh is a freedom struggle that will culminate when the state becomes part of the Islamic Republic of Pakistan.
Sultan Ahmad is chairman of the Muslim Institute is a research institute dedicated to promoting peace and stability in the Muslim world.
He is also the Chief Editor of the monthly Al-Arifeen magazine which promotes the Sufi ideal of Sultan Bahoo.
Sultan Muhammad Ali In a quest to promote Islamic values has visited many countries while heading delegations representing Pakistan.
Many national and international conferences, seminars, and congregations have been organized under his guidance and coordination on different topics regarding Kashmir, Iqbal, humanity, spirituality, social and global issues faced by Muslims, and the unity of Ummah, etc.