If need arises "fresh" & "updated" tear gas to be used, Rana Sannullah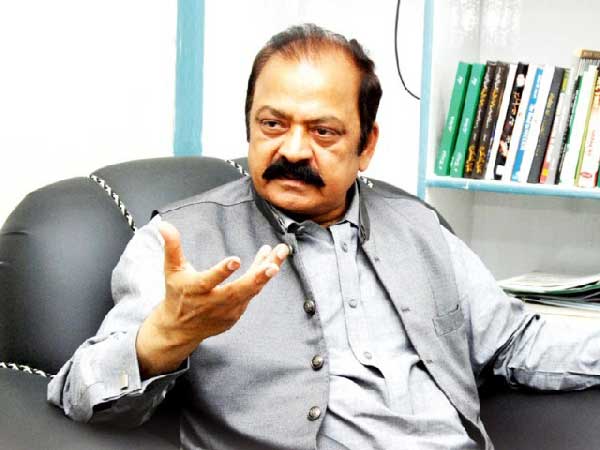 ISLAMABAD: Interior Minister Rana Sanaullah on Saturday promised to use "fresh" and "updated" tear gas against PTI supporters ahead of the party's rally in Islamabad's Parade ground today — "if the need arises"— advising the participants not to give cause to such a situation.
His remarks come as preparations are under way for the party's power show at the capital's Parade Ground today. Former prime minister Imran Khan will lead a caravan from Rawalpindi to the venue in Islamabad.
His tear gas mention also follows the opposition party's accusations that the Islamabad police had used expired tear gas against PTI supporters during the party's May 25 Azadi March — the day former prime minister Imran Khan had marched onto the capital for "haqeeqi azadi (true freedom)" along with his party.
The marchers were, however, stopped from heading towards D-Chowk by the police through tear gas shelling.
Later, Inspector General of Police (IGP) Islamabad Dr Akbar Nasir Khan had said that tear gas used on the protesters had caused irritation in the eyes only. "Expired tear gas shells were not used. No other chemicals were used to disperse the crowds on May 25."
At a press conference today, Sanaullah said that the expired tear gas, which he claimed was bought by his "predecessors", had finished. "Now they will get everything effective, fresh and updated if the need arises.
"But it would be better if they don't create a situation," he suggested.
The minister also lauded the Islamabad police for bringing the situation under control just through rubber bullets and tear gas. "I want to tell them that they didn't just save Islamabad that day, but also democracy."
He said in the future any such "seditious" rallies won't be tolerated in Islamabad. "This page of anyone sabotaging, threatening or surrounding Islamabad has been torn. The state is now rid of such threats forever," Sanaullah promised.
Meanwhile, in response a question, he said that Imran should "correct" his matters and refrain from "creating rebellion and instability" in the country. "He should indulge in peaceful and national politics."
"All the political parties in the country at the moment are on one side, trying to solve the ongoing crises, while Imran Khan is busy abusing everyone and playing the politics of hatred," the minister said, underscoring the need for political consensus.