PM inaugurates two national parks in GB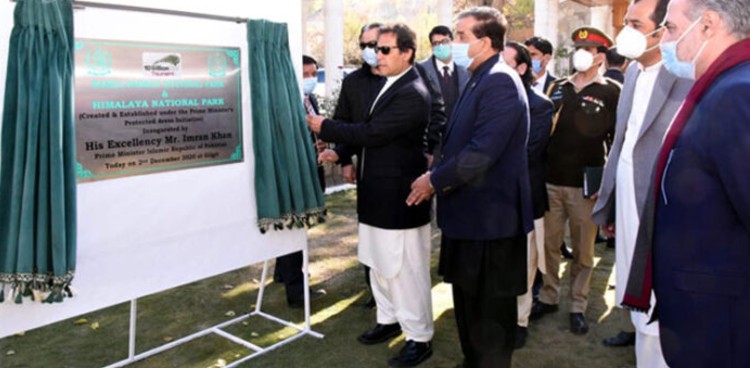 Prime Minister Imran Khan has inaugurated Himalaya and Nanga Parbat National Parks, spanning a huge area of 3,600 square kilometres in Gilgit-Baltistan, to protect endangered wildlife and promote Eco-tourism in the area.
This was stated by Prime Minister's Special Assistant on Climate Change Malik Amin Aslam while addressing a press conference in Islamabad, yesturday.
He said these parks will comprise five per cent area of Gilgit-Baltistan, adding that they will will form a nature corridor between Azad Kashmir and Khyber Pakhtunkhwa.
He said the newly notified Himalaya National Park and the Nanga Parbat NP comprise unique ecological areas with very rich high altitude biodiversity as well as precious flora and fauna which include snow leopards, Himalayan brown bear, Laddakh Urial, ibex, markhor and blue sheep.
The two national parks have been announced under the PMs 'Protected Areas Initiative' which aims to ensure the protection and preservation of Pakistan's natural assets through designation and management of national parks, he added.
The SAPM said arrangements have also been made for natural breeding of Laddakh Urial so as to enhance the population of endangered species. He said that proper community-based management regimes will be put in place in all of them.
"In this regard, the Prime Minister also approved the formation of Gilgit Baltistan's first 'National Parks Service' which will provide 5,000 green jobs to the youth in the province."
The special assistant welcomed the Supreme Court's suo moto notice on the Billion Tree Tsunami project and said that judicial activism is vital for environmental conservation. He said that all necessary details will be submitted to the apex court regarding the billion tree project.