Rupee loses up to Rs19 value in past 12 days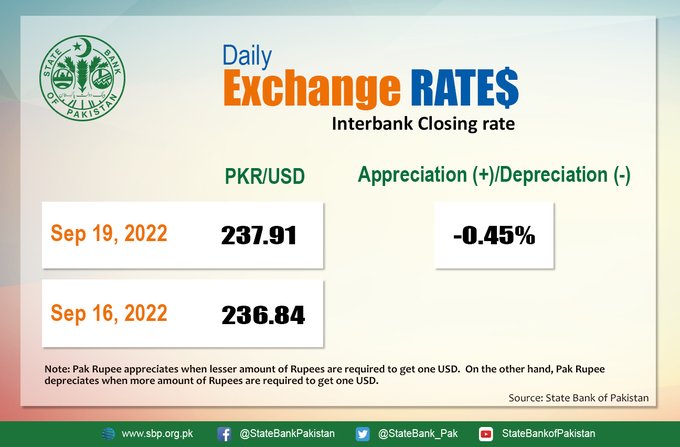 WEB DESK
The Pakistani rupee continued to lose ground against the US dollar on Monday as the latter gained another Rs1.07 in value to rise to Rs237.91 during intraday trading in the interbank market.
Cumulatively, the rupee has lost around Rs19 in value over the past 12 days.
According to data released by the State Bank of Pakistan on Monday afternoon, the value of rupee depreciated by another 0.45%.
The rupee had closed in the market on the weekend at a rate of Rs236.84. It was among the few currencies in the world which had lost out to the dollar.
On Monday it lost another Rs1.07 in value to sink to Rs237.91.
The last time the rupee was this weak was in early August when a US dollar cost around Rs238.38. The rupee currently sits just Rs2.03 away from its all-time lowest value of Rs239.94, which it had attained on July 28 earlier this year.
Earlier during intraday trading in the interbank, the US dollar was being traded at a value of over Rs238 with a rise of Rs1.16. However, it had lowered to below that level before the end of day.